Archive for the 'Kayak Adventures' Category
Just got back from Wilderness Island and Exmouth from what was an awesome week in the Gulf paradise. Fishing was way down on the usual tho, with water temps starting the week at just over 18degrees, and reaching 23.6 by friday, combined with muddy water which did clear a little by week end, cold and dirty, not a great recipe. Jim put it down to the amount of wind they have had, and the first two nights blew its brains out, and you needed to have a degree in archaeology to find our yaks in the morning.
This trip comprised of Matt, Leigh (Fisherking), my Dad, and me. Jim and Kim also came across for the week, and the nights were fun filled with drunken antics all week!! NIGHTCAPS was the catchcall, and Leigh brought a flagon of his homemade rum which was a regular nightcap.
I had one absolute highlight tho, i caught my first ever Giant Herring, which well and truly lived up to its name. It hit a trolled lure, launched from the water, which prompted a call of Queenie from me, but i was pleasantly suprised to land this fella. Not an easy fish to land, as well too big for my net, and slimy to grab, but i eventually got it onboard for a pic. The fellas told me later that this is a particuarly solid specimen!
Anyways, as always at Wilderness just being there makes up a huge part of the experience, so please enjoy the Video. Its a bit longer than i usually like, but i just couldnt cut anything out!!
Oh ! Please also head the warning!!
GUIDED KAYAK SAFARI OF EXMOUTH GULF
WILDERNESS ISLAND
WESTERN Angler has teamed with Wilderness Island to offer a unique opportunity for kayak anglers to experience the remote magic of the east side of Exmouth Gulf next year.
WAngler readers will be familiar with the Wilderness Island fishing camp and its spectacular fishing, which featured in the Aug-Sep magazine this year.
With its protected waters, shallow flats and countless creeks, the east side of the gulf is perfect for kayak exploration and 10 places (BYO kayak and fishing gear) are available for a week of guided 'yak fishing action out of Wilderness Island, from May 9-15 next year.
The week will include fully guided creek, flats and bluewater fishing, with all food, drinks, accommodation, transfers to Wilderness from Exmouth and kayak transportation during the week included. During the week we will have fully boat supported trips around the area, including a possible overnighter (weather depending) to the Murion Islands!!
Also included in the package is a night at the luxurious Novotel Ningaloo Resort in Exmouth before heading across to Wilderness.
Species likely to be encountered during the week include spanish mackerel, longtail tuna, golden and giant trevally, mangrove jack, yellowfin bream, permit and queenfish.
There will be three boats acting as motherships for the week, and Western Angler editor and keen kayak angler Scott Coghlan, Kayak Angler columnist Brett Ozanne and Boating Angler columnist Darryl Hitchen, as well as two local guides, will be there to ensure everything runs smoothly.
Cost is $2660 per head and bookings can be made through Western Angler on 0414 685 169, or PM Brett Ozanne (Shufoy) for more information.
Spots are limited, so get in early for an incredible Yak Fishing Safari of  lifetime!!!
http://www.wilderness-island.com.au/
After finally shaking the Snapperitis, i got my first Bream of the warmer months today. Hit deepwater in the river, and tried looking around for some early season (i think…) Mulloway, with no result. Soaked a big bait while prospecting, but it was dispatched by Crabs and other pickers.
So switching to the Bream rods just as dusk approached returned some decent Black Bream on lures! The trusty Ecogear SX40 did the damage, on my light outfit, casting toward the bank and rocky outcrops and retrieving erratically!
Great arvo on the river, was beautiful, sunny and calm. Tho heaps of boat traffic probably contributed to fish being flighty. Landed two small Tailor also, and only saw one blowie all day!
Thanks to Paul (Yakyakker) for the company!
Dark Red Joy
With me running the KFWA Statewide Saltwater Showdown this weekend, and not having to compete, i thought i would get out and have a go myself. Unfortunately i also had a massive week with the Dowerin Field Day, and being down there for 4 days meant i was absolutely buggered by the time the weekend came around. So on saturday i hit the offshore reefs with Matt for donuts, and thismorning i thought i would try the inshore waters for a Pinky.
Launched solo before dawn, and headed out in calm conditions to my mark, where i got some berley in the water, followed by a mulie, and an assortment of different plastics. Over the course of the morning i landed many small Skippy, with the largest going 23cm, and three Herring 22, 19 and 21cm giving a Three of a Kind of 62cm (One of our comps categories).
One of these Herring found itself with a couple of carbon steel peircings and went back in the drink, after about 45mins, the rod goes off, and a torrid fight ensues with a good size Snapper. This guy fought hard, and i was struggling to get him up, allowing me to think he was a MONSTER!!!!!!! But in the end once netted, it turned out he was foul hooked just under the jaw!
This is one of the most incredible looking Pink Snapper i've ever caught with it's dark red colouring, certainly see why they call them big reds! This fella went somewhere around 85cm ish, and after a short swim, powered back into the depths to fight another day!
Was a pleasant day out there today, and I also caught up with Ian (Beluga), Chris (Desperate2fish), Herb (Old Bloke) and on the way in past the afternoon shift in Col(Shorty) and Matt (Yoga!). Was great to see so many yaks out there this weekend, and i hope you all got scales on the deck, and some great entries for the comp!
Bub's and Banjo's!

I too saw the window open, and through it i ran forth!!!
Toddled out to the mark after work this evening, went solo which wasn't really a problem, if i had a catastrophic hull failure, there was 6 boats within dog-paddle range to swim too..  Was quiet early, not really suprising with the constant boat traffic. Some of the boats got fish, few good size ones i could see, and many boys hanging of screaming eagle rays!
After the last boat had split, i cruised over to one of my favourite spots, and hung out the pick, poured as much of the last of the berley out, and waited. Calm night, with a almost full moon, it was magic out there! Soon the Magnum Butt is bending, and the reel starts giving up line, i grab the rod and nothing…
Which is fine as the other rod has just gone off! I reel the last of the line in and stash the rod, feels like an decent fish, and i slug it out with a nice 60cm Snapper.
I grab a snap of the snap and give him the kiss of life, he powers off! Now im almost out of bait, and sacrifice my last Scaly for berley, leaving my last bait out, and i'm working the plastic on the 10lb gear. I feel a touch on the plastic, bump, and BANG! I'm ON!! Feel's solid on the light gear, and slugs it right out to the yak. Get him onboard, a feisty 65cm fish, which i dispatch for Friday Dinner!
So i'm stowing the fish, and i hear my Twinpower 's drag singing!! I grab the rod and play the fish? Well i'm not exactly sure what it is, kinda ray like but not… Up to the boat comes this fella, a Banjo Shark i think there called, or a Fiddler Ray?
I manage to get the hooks out of his lip, and give him a bit of a swim, and he's off too!
Awesome night, a few good fish, and some top tucker for tomorrow night! Fancy that, all the fish after the last boat had left, and all in an hour..
As i packed up my gear i wandered over to the car, and i had a visitor on my window, creepy….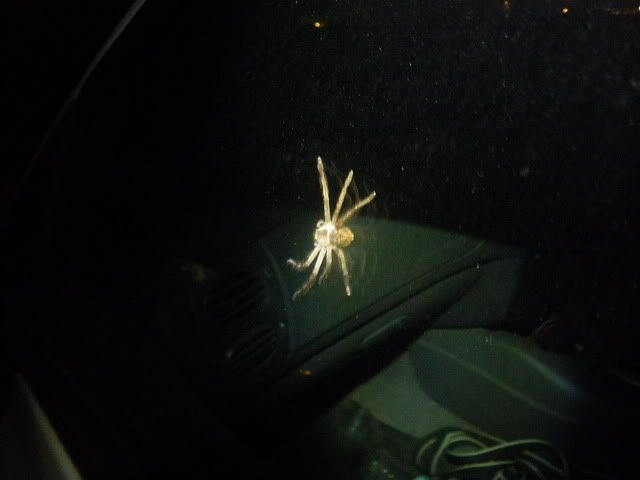 Over the last month,  i've spent a heap of time on the water targeting Pink Snapper around the inshore waters of Perth.  I've tries many different techniques, ranging from bait, to Jigs, with varied success. Here is a summary of the best trips, with some super hot sessions, and plenty of cracking Pinkies landed as the end of the season approaches!
Enjoy!
Good Karma – August, Sunday.
Tonight, was one of those nights. I felt a chance heading down, talked it up with myself a bit, was confident. Got home after being out all day with enough time and a leave pass, for a fish, checked the forums, and a few were enroute, passed Paul on the way and he followed me all the way to the launch, where Shorty rocked up 5 mins later, funny little coincidences
Whilst rigging up, saw Graeme departing, and another yakker clearing the heads, which turned out to be Dan. All good, remembered everything, got set and away we went. Fairly calmish, till we hit open water. A gentle swell and plenty of wind chop produced messy conditions, so myself and Paul headed across the bay, where i left Paul to troll, and headed right up to the end where i knew there was some ground that's produced fish before. Things looked fairly quiet here, and Grae commented on the lack of fish, but i stuck to my plan, and dropped a pick just off the structure. Some berley was tossed around, Paul commenting i was feeding the chickens!!:shock: 
It was dusk before the berley took hold, fish started feeding, found my trap, and it was on! My bait rod took a big twitch, so i grabbed it out of the holder, it felt heavy, so i took up a bit of line, felt weight, i struck, and was met with a few kicks, and the sound of braid whizzing thru alconite eyelets!!!  At this stage Dan and Dawn had cruised past me on the way home, and sat back to watch the show. I was telling Dan at this time almost in jest, this is when they come on the bite! How right i was!! 
This fish played hard, and at one stage almost wrapped the anchor, but eventually got him yakside. A ripper 70cm+ Snapper that got the kiss of life, and back he went.
So after the kufuffle i got another bait back in the water asap, got myself set again, reset my Plastic as well, fed the chooks again, and sat back. My soft plastic had a bit of a touch, but nothing else. Then again, the bait rod takes a hit!! It's out of the holder faster than a jatz cracker and i take up the slack, another solid hit follows, and the weight starts to increase! A whack of the tail reverbs down the line, and i strike! It comes up solid and i'm on, another slugfest commences!!
The fish slips into my net for number 2 of the night, and a little bigger this time, at 75cm-ish, the chunky little blighter poses for a few pics by Paul, and he gets a bit of a swim, and away he goes. Double karma points for me. I turned to Paul at this point and said if I get another i'll take him home!
So anyway by now i'm fairly stoked, and ready to cruise, but the boys are keen to hang around, so i think i'll stay too. Glad i did, as after another short pause, i'm on again. This one feels solid, good head shakes, short runs, its on!!! Good fight follows, and he gets wrapped around the anchor rope!! I can feel the line rubbing, and then it goes slack, only for a second tho as the fish's protests soon become evident!! I play the fish yakside, and he's being stubbon, but into the net he goes!! The boys come over and have a look, as i'm breathless, thrilled at the horse in the net, great fish!
Picking this fish up for a few snaps, and he's still strong, and not that impressed at his dilemma! So i get Paul to take a few pics, and give him a swim, he's still pretty green, and soon spasms into life, so i release him. He gives me the old seeya later with a kick of the tail, and a facefull of saltwater!
What a night. Three good fish landed, and released. Go home happy, and hungry for the next trip. Thanks for the company Paul, Graeme, Shorty and great meeting you Dan and Dawn.
This is some good advice I remember reading when i first discovered kayak fishing.  It is some advice I haven't really listened to. Fishing protected waters I developed a bad habit of trying to take every lure I owned with me on every trip. When I started fishing offshore I cut my gear back significantly but over time I have added more and more gear to my kit.
I have been kayak fishing on a regular basis for 2 and a half years and I have yet to capsize. On the weekend just past I came very close. I was fighting a Queenfish and I lent over the side to take shot of it underwater. As I did so the fish pulled my kayak around side on the wind chop and went down. As I rolled down into the trough of the wave I teetered on the edge of my balance and the side of my yak dug into the next wave. I managed to hold it together and regain my balance but it was close and I got quite a scare.
I was pretty close to losing it, I am pretty sure I could have bailed and stopped the yak from going over. Had I gone in I am confident, having practiced plenty of times, that I can right the yak and make a deep water re-entry.  As I got myself together I assessed the gear I would have lost had I gone in.  Rod and reel in one hand, camera in the other both unleashed. The centre well was half shut so potentially all of my tackle, drinking water, pliers, knife and bragmat. Anchor, drogue and extra water bottle in the rear well. The seal i put on the sounder compartment has failed so possibly sounder gone too. A capsize would have been a costly exercise!
Over the next few weeks i am going to make some changes to the gear I take and the rigging of my yak so that I am better prepared for when I go over.  Stay tuned I'll be putting together a series of posts on this topic.
40 mile beach is well and truly my favourite yak fishing spot after another great session again for me yesterday.
I arrived just at around 7am just as the tide started to come back in. I was on a mission, long running hard fighting pelagics is what I was after. Tuna and big Spanish macks at the top of my wish list. I made a b-line for the out edge of the reef around 1.5 kms from shore. Once I got into some deeper water I deployed an Xrap 20. As the bommies disappeared from my sounder I scanned the horizon looking for action. It was still early in the tide and there were no current line apparent so I focused my attention of the edge of the reef. My tactics were to drift the reef edge working a soft plastic and then troll back to the top of the drift. First Cast my snapback was sliced in half. Second cast I came up solid and line started peeling from my reel pretty soon I had big Queenie putting on a show. After a few jumps it slugged it out for about 5 minutes before I landed my longest fish from the kayak to date! Just shy of the magical metre mark, 96cm of Queenfish!
Sorry about the photo, its not easy to handle a fish this big in a kayak and get a good photo. The Queenie was released and swam of strong. I worked my way along the reef edge for a few more drifts. The tide started to run and the water glassed off making the current lines became visible. This also meant the ramp now had enough water for the brigade of tinnies to launch. I joined several tinnies the working the current lines. Several more kept going out towards the islands. Some of them were amused by my kayak and started taking photos of me. I spotted one tuna take to the air but there was no sustained action. The water was thick with plankton/krill (not sure exactly what) so I kept my eyes peeled for feeding mantas. I allowed myself to drift back towards reef while I worked a plastic. I let it get too close to the reef and a reef dweller dragged it back into it lair. I rerigged and paddled back out on the current lines. I raced over to some surface action that turned out to be just bait. I followed the bait school on the surface but lost them when they went down. I set up another drift and hit the bait school again this time on my sounder, close to the bottom and accompanied by some bigger arches. I jigged a gold twisty and got a bite straight away but didn't set the hooks, twice more I missed the hook up. The fourth attempt I struck hard and stayed connected. A mackerel came to the yak without a fight. But I had seen this trick before. I backed the drag off a touch and sure enough as soon as I got it close to the yak it woke up and took off!
zzzzzzzzz that's more like it!
I played it back in and made the tail grab.
A broad barred mackerel, a quick pic and I sent it on its way. It took some reviving but recovered well in the end. I didn't measure it but it was about the same as the Queenie so I call for 95cm.
The biggest turtle I have seen came over to check me out as I drifted. It circled around me and followed me for about 5 minutes.
Happy with my mornings work I headed back to the beach for some lunch.
It had been a month since I had been out in my kayak and 7 weeks and more than 30kms of paddling since  I had caught a fish. Plans were laid for a Saturday morning dawn assault. I woke to find a breeze stiff enough to send me back to bed. I had to settle for a fruitless evening landbased session. Disheartened I didn't set an alarm for Sunday. I woke up to find a perfectly still morning! Within an hour I was launching into Dampier harbour eager to end my run of donuts.
100m metres from the ramp I noticed some fish milling around on the surface before I had a chance to act my trolled lure was taken. No sooner had i grabbed the rod something else scoffed whatever I had hooked! With my hopes up I continued to troll across the the channel towards East Intercourse Island (EII) wary of the tugs headed my way. Just as I got clear of the channel another hit, the little school mackerel was no match for my heavy trolling gear but a fish none the less.
I dealt with the mackie just in time to turn and face the wake of the tugs.
Trolled my way around EII towards the ore wharf . I was on the look out for manta rays and hopefully cobia. Cobia fishing this spot has been featured on Fishing WA a few years ago. I got blown away here by a 15kg cobia the previous week when we spotted a manta here while out in a mates boat.
I changed lures to a 8m+ scorpion and after a bit of tune up I was under way again. The scorpion got hammer! I set the hooks into a solid fish, the yak lurched around and and i held on for the ride! Fairly confident the hooks were set i put the rod down and cranked in my other trolling line. I settled in for the fight by it didn't quite feel right… there was plenty of weight but it was swimming strangely.
Sure enough about 10minutes later i had colour…
Big Shark! By far the the biggest fish I have caught on the yak. While it circled under the yak I took the opportunity to test my new underwater camera with awesome results. I brought it to the surface and it took off again and again, a couple of times drenching me in the process.
Eventually it tired enough to get it in for a closer look. A grey reef shark maybe a metre and a half long.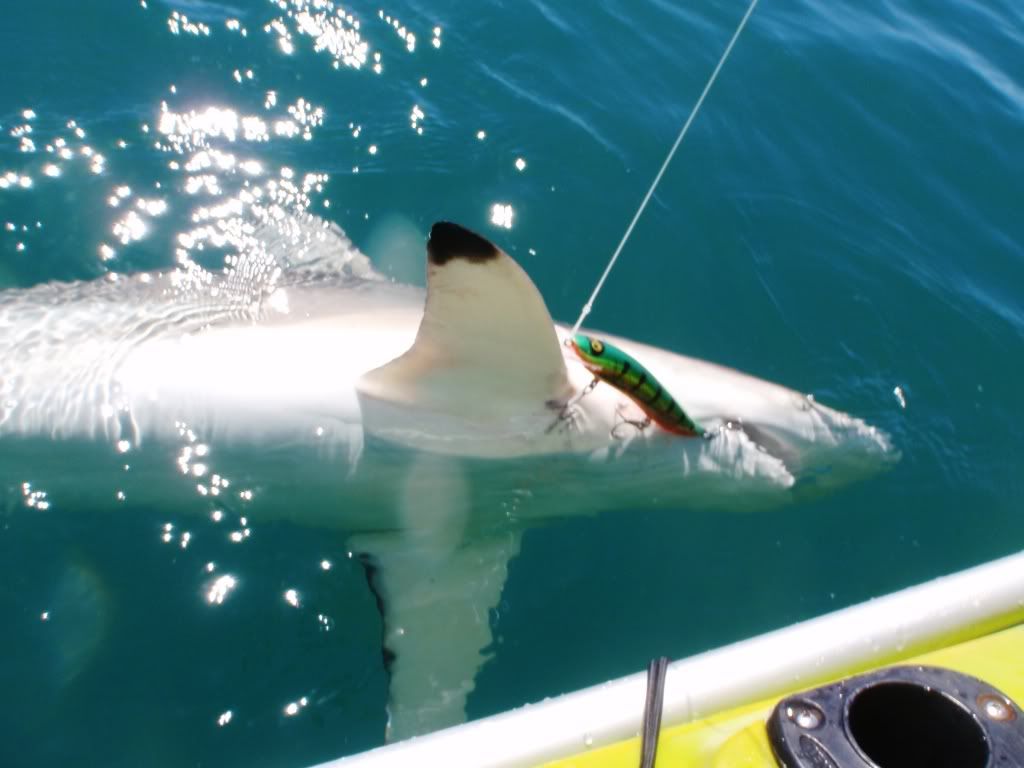 My lure was well and truly hooked in the corner of its jaw. The thought of sharp teeth, trebles and a thrashing shark didn't really appeal to me so I cut the line. I rerigged and started to loop back around I trolled out to a current line where I spotted surface activity but couldn't find any action when I got there. At the point of EII I spotted a school of mackies but they were so close the act of reaching for a rod spooked them. When I retreived my lures ready to land I found a small barracuda hooked on one. I don't know how long I towed it around for but it self released yakside.
Cheers
Swamp
After 2 quiet sessions, getting a few stinky snapper back on board is a real bonus. Hit the water this morning, headed out to the marks, where amazingly, there was only one boat! Trolled for a while, with only a solitary hit, then, applied some soft plastics where i hit a gold mine! Scored one approx. 70cm ish on the second cast, then only 20mins later landed a second one just a fraction bigger!! By this stage Shorty had arrived, and cruised around chucking a few placcies, when i hooked up solid for a third time, playing it tentativley to within 10m from the yak where it decided to drop the hook! Great morning none-the-less, and all the Pinkies went back to produce more Pinks which will eventually end up being Massive Pinks which i can then catch…
Awesome morning, would've loved to land the third one! Is great releasing a few, stocking up on Karma points for the next monster! Thanks for the company Shorty!